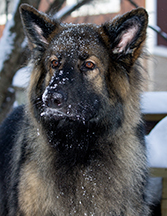 Some people have asked me why I would do a P52 Project, and what I expect to attain from doing one.  I firmly believe that everyone has their own reasons for doing this type of endeavor.  Mine is to challenge myself and to see how my photography improves over time.
It's amazing to keep a record of your best, most thought out shots over the span of one year.  You get to see the evolution of your skill and really have the opportunity to become intimate with your camera and all of its settings.
My personal goal is to try to take pictures to the best of my ability.  When I've imported them into my computer (developed them), I do very little post processing.  Maybe I'll change the white balance since I shoot in RAW format, but that's about it.  I treat it like I'm working in film, so instead of snapping a million shots, I'm very selective and want to get the best picture within the camera.
At the end of the year, I would like to hang my very first P52 project up on my wall.
I've just posted week 9 to my P52 Project over on my 500px page and Flickr pages.  Feel free to check it out, and see the evolution of my art!
http://500px.com/dcortell/sets/p52_2014